Barcode Software
iBarcoder Features
iBarcoder is barcode software and label maker software for MacOS X. It supports more then 40 barcode symbologies, PDF417, QR Code, UPC, ISBN, EAN13, GS1-128, SSCC-18 and GTIN-14 barcodes among them. It is used for generating individual and sequential barcodes, creating labels using built-in label formats of well known media manufacturers, or custom label formats, and print barcodes, or label designs right from the label editor window. The Contacts (Address Book) integration allows to encode personal data into QR Code and DataMatrix 2D barcodes using the plain text, vCard, meCard, xCard, and other data templates.
Enhanced Editing
The product allows you to use to multiple editing options. Not only can you add bar code objects, but text, image boxes, and graphics, like rectangles, ovals and lines. Text objects can also be switched to sequential mode, as well as barcodes objects. Simple text files or Excel files can be used as data sources, or automatic incrementing in the counter mode can be set.
Barcode Export
When exporting barcode images, not only raster images are needed, but also PDF and EPS vector images. You may want to switch between RGB and CMYK color modes for exporting barcodes to avoid color conversion problems when importing these files into graphic software (Illustrator, CoredDraw).
Printing
Advanced printing options allow you to exclude certain labels from printing with just a mouse click on the label format preview, set the labels printing range , and more. Use bleeds, trim and crop marks, calibration offsets, etc.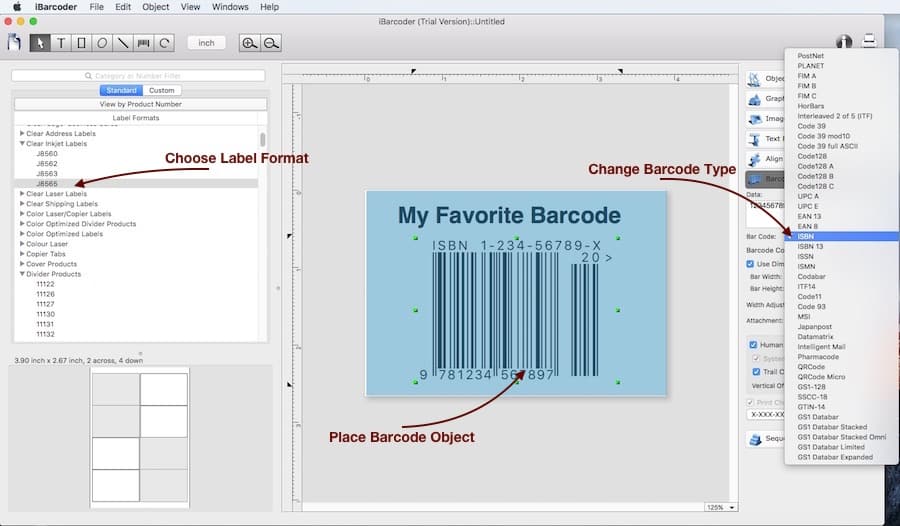 The iBarcoder is affordable, innovative, and high quality professional mac barcode generator. It has a simple and intuitive interface, and makes the process of creating and exporting barcodes as vector or raster image files, printing barcoded labels easy and quick . No special skills are necessary, anyone can start using it practically in no time.
LIFETIME license with FREE updates, and free tech support means no costly software or equipment upgrades.